tblspn.net/ianw/bio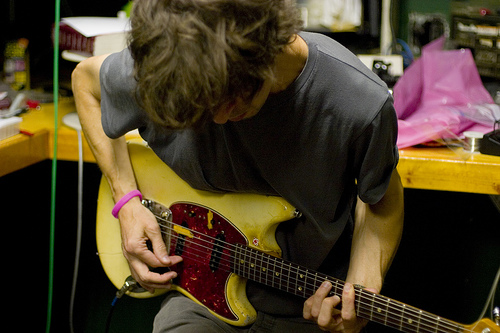 pre-recording a live-to-air at Radio
WHPK
Chicago 06.04.07 [photo:
john dunlevy]
publicity shots here
june 2008 bio - for Liquid Architecture gig @Brisbane Powerhouse
Ian Wadley has played various instruments in countless bands. In the last year, when not drumming for Six Organs of Admittance, Jandek and Mick Turner (amongst others) he toured the US, UK and Europe, performing solo, instrumental impromptu compositions for guitar. The music can be spontaneous; it can reference his and others' back-catalogues. Ian likes to hover between emotive melody and unlistenable racket. He likes to use a looping pedal without necessarily knowing where the loop begins and ends. He likes to remember that the guitar is made of nuts and bolts, wood and wires, etc.
feb 2007 bio - composed for ATP and SxSW - big on detail but stodgy
oct 2007 bio - for leipzig / berlin appearances
see also ian's music or other mySpace pages for more and/or different biographical infos