tblspn.net/ianw/bio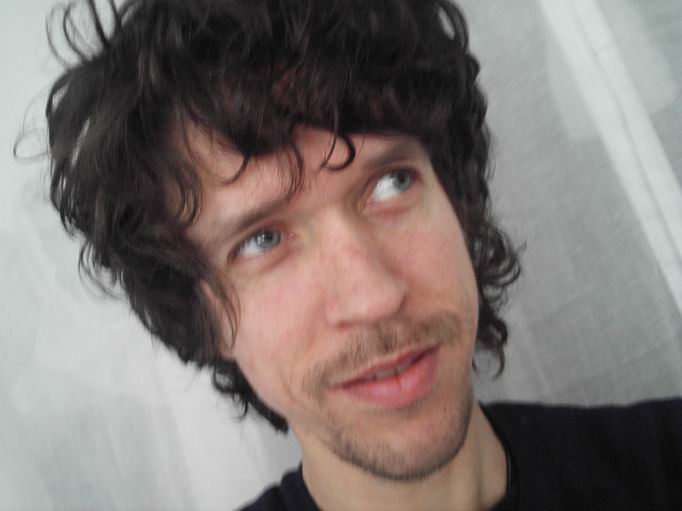 more
publicity shots
here
you may find more biographical information on ian's
music
&/or
other
mySpace pages
bio
Using a guitar and a few electronic devices Ian Wadley creates meandering soundscapes that will stick in your head and haunt you long after the performance has concluded. Fresh ideas mingle with hints of familiar tunes and random access reworks of a musical career that spans decades. Once described as "Derek Bailey channelling Jimi Hendrix", Ian is equally at home with ambient transistor radio as the sound of a passing tram.
"Three Uneasy Pieces" (
sweat-lung
2006) is Ian Wadley's debut solo cd. The vast majority of his recorded output is, on various instruments (and at times producing), as a member of numerous groups (Bird Blobs, Holy Ghosts, Minimum Chips, Function, Small World Experience, the Closesthing, Dumdums, GobbleGobble, the Deep End, Tendrils, and more). Ian hails from Brisbane, has spent a decade in Melbourne, toured the US, Europe, UK and Japan, recently spent a year in Berlin, playing and recording solo and with various others.
"Three Uneasy Pieces" was recorded live in Melbourne by
Jared Nelson
and mixed by
Chris Grier
. It was Ian's first solo guitar gig in a while, having been through a phase of improvising compositions for piano. He had recently returned from gigs in the US, UK and Japan with Function, recorded a 4th LP with the Bird Blobs (Wadley played the other/looser guitar in this outfit) then toured Australia (10 gigs in 12 days, on the road with Snap!Crakk!! and Love Like.. Electrocution), was recording parts for guitar, drums, trumpet, piano & bass for a 2nd Function LP, and gigging with Minimum Chips too. After a Bird Blobs US+UK tour, then recording sessions drumming for MinChips and Small World Experience, Ian teamed up with Chris Grier (To Live And Shave In LA) to mix the recording, then set off on a European tour with the Bird Blobs and stayed in Berlin for a year, during which he played solo gigs, formed a drums/gtr/noise duo with Konrad Wilde (Kraftpost, Nonostar) by the name of Doublevision, and made various guest appearances including a spot of guitar on "Trust Me", the 2nd LP from Trost (Annika of Cobra Killer). He spent May filling in as bassplayer for Berlin's Husky Stash, Cortina (NZ), Australian expat Hugo Race and Melbourne's Jemima Jemima, and much of June touring Norway with Einar Stenseng. A cd-r "ianw oslo solo" was released at a special 4hr under-tree performance at the (lakeside) Goldmund Festival in Biesenthal, then recorded an LP (as-yet unreleased) Jeremy Glover (Liars) in Berlin last August. Back in Melbourne since September, Ian has been back in the studio (solo) with Jarrod Quarrel, drummed on a Jason Molina recording (with Mick Turner, Joel Silbersher & Peggy Frew), been playing guitar in St Helens (with members of New Season, Kes and Panel of Judges), drumming in Minimum Chips and joined the Hi God People on trumpet for one gig. Ian has been busy recording and gigging with Simon Taylor (Bone Sheriff, EOH, Whitehorse), in a collaboration that is in a similar vein to the solo work, with processed percussion (contact mics on cymbals, kalmiba etc.) . Current plans include solo performances SxSW (TX) in March and All Tomorrows Parties (UK April), with more TBA en route.